Our Story
Founded by Louis Guattari in 1934, Monbana originally created fine chocolate drinks for breakfast. Since that time, the company has continued to create various kinds of quality chocolate and confectionary products, from drinking chocolates to chocolate squares. In fact, Monbana's dedication to quality has allowed it to claim a 60% market share in coffee accompaniment products and chocolate powders in France.
Monbana cocoa is Ecocert certified and specially selected from fair trade farmers in South America and the Ivory Coast, to ensure the best taste and an ethical supply chain. In addition, all recipes are developed by professional French chocolatiers and an R&D team that creates new textures and flavours.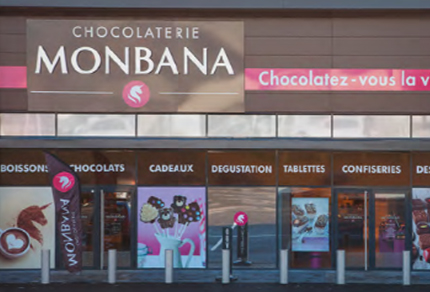 Description
Monbana Almonds – Chocolate-coated and glazed almonds
Carefully selected almonds, lightly toasted, then coated in pure chocolate and cocoa powder. Presented in an elegant metal box, perfect for gifting and sharing.
Monbana Coffee Plus- Coffee beans coated in chocolate
Carefully selected coffee beans, perfectly roasted, then coated in pure chocolate for a delightfully intense coffee flavour and a sweet finish.