Our Story
The winner of over 60 Great Taste awards, Mrs Bridges British preserves, marmalades, sauces, confectioneries and curds have captured the enjoyment of many around the world. Inspired by Kate Bridges, a cook for countless honourable families in Britain, Mrs Bridges products are made using quintessentially British cooking techniques and celebrate the long history and special tradition of British cookery. With no artificial flavours, colours or preservatives, Mrs Bridges products are also guaranteed to be healthy and full of natural goodness.
Mrs. Bridges makes a variety of sauces and condiments perfect for cooking, using all-natural, high-quality ingredients so that your dishes will come out wonderfully.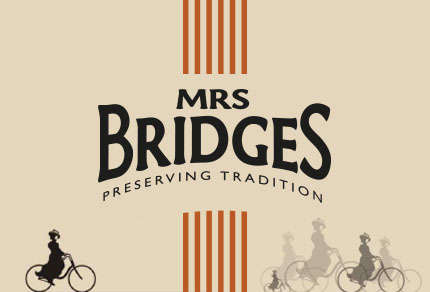 Description
Mrs Bridges Honey Mustard & Champagne
2014 Great Taste Award winner
A smooth mustard with the added sweetness of honey and a delicate hint of luxurious champagne.
Mrs Bridges Tartare Sauce with Lemon
2014 Great Taste Award winner
Mrs Bridges new and improved recipe makes for a great accompaniment to fish. Only the best most succulent capers pass the Mrs Bridges taste test and make it into this gourmet sauce.