Our Story
The winner of over 60 Great Taste awards, Mrs Bridges British preserves, marmalades, sauces, confectioneries and curds have captured the enjoyment of many around the world. Inspired by Kate Bridges, a cook for countless honourable families in Britain, Mrs Bridges products are made using quintessentially British cooking techniques and celebrate the long history and special tradition of British cookery. With no artificial flavours, colours or preservatives, Mrs Bridges products are also guaranteed to be healthy and full of natural goodness.
Mrs. Bridges offers a variety of delightful confectioneries and sweets that are made using traditional British methods.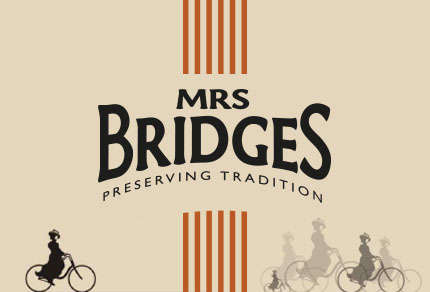 Description
Mrs Bridges Fruit Marbles Sweet Jar
A kaleidoscope of colours and flavours in one jar. This traditional spread comes in Mrs Bridges' distinctive glass jar.
Mrs Bridges Strawberries & Cream Sweet Jar
A Mrs Bridges' classic – all the flavour of fresh summer strawberries and cream in a delightful sweet to enjoy all year round. Each has its own chewy centre and is presented in Mrs Bridges' distinctively classic jar.