Our Story
100% Australian owed and run premium producer of gourmet macadamias products. The brand name comes from the site of their original farm – Duck Creel Mountain. The business was established in 1987 in Byron Bay hinterland. All of the macadamias are grown, and hand-packed on the farm, processed, and flavoured locally, to ensure 100% consistency and quality control. Duck Creek's aim is to produce the world's best macadamia products. They ensure that only premium size and quality nuts used. Macadamias are roasted, then coat in rich coverture chocolate, dip in pure harvested honey, or flavour them with savoury spices.
Macadamias are a nutritious whole food, contain rich source of monounsaturated fat that can assist in lowering blood cholesterol and reduce the risk of heart disease. They also contain around 2 g natural fibres per 30g serve, providing a natural approach to digestive regularity.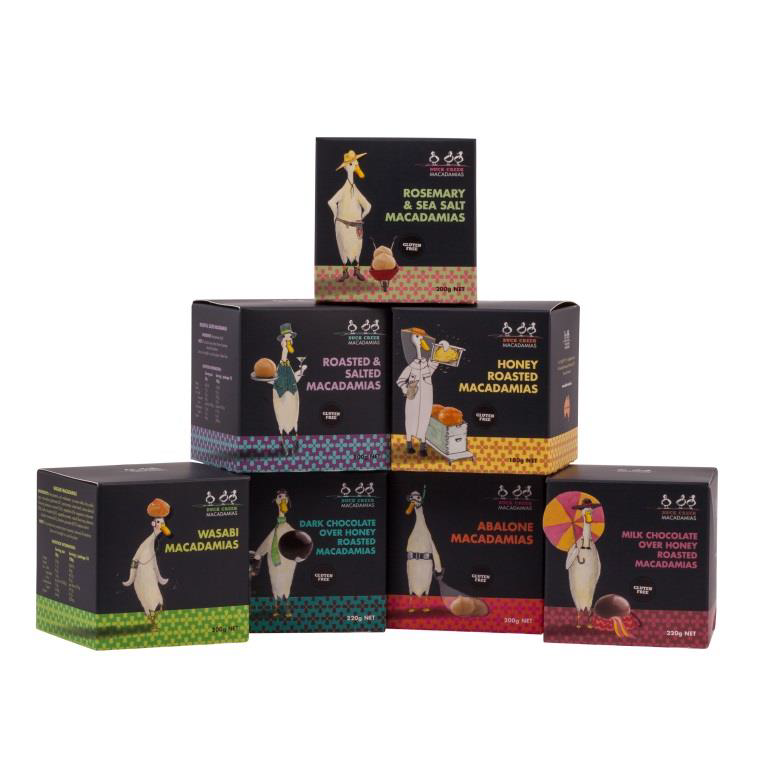 Description
Best-seller: The premium range includes Fantasies, Obsessions & Trios presented in a stunning gift jar, which is tailor made for gifting.
Obsessions – Premium roasted macadamias enrobed in naturally flavoured coverture chocolate, dusted in Belgian cocoa. Orange, Rose, Ginger, Mint & Mocha
Fantasies – Premium macadamias roasted in pure harvested honey, layered with coverture dark, milk & white chocolate
Trios – Dark, milk & white coverture chocolate panned premium macadamias